Why is Bhool Bhulaiya 1 a must-watch?
All-day all night long.. Hare Ram Hare Ram, Hare Krishna Hare Ram…
Haven't we all been crooning this one for ages now, the ultimate "drip pop" cult number created for this amazing horror comedy which was possibly one of the best in its times? Yes, you are right, I am talking about none other than the Akshay Kumar and Vidya Balan starrer Bhool Bhulaiyaa which has been one Hindi movie which has been the one I truly enjoyed getting the creeps and thrills throughout!! I mean who can forget the sensational "Amee Je Tomaar…" and the resounding ghungroos alongside this melodious rendition. Only to be drowned in a qualm of horror, suspense and most of all fear, which was definitely the USP in this movie, I'd say. 
The latest in this series aka Bhool Bhulaiyaa 2: In Search Of Lost Time albeit is a different story altogether. Whilst the Akshay Kumar starrer one was more of horror meets comedy meets ahem a psychological fiction, Kartik's movie is a proper horror-comedy fused to incorporate and possibly recreate all those elements which made Bhool Bhulaiyaa 1 the cult we still enjoy to watch even today.
So, then what is it that makes Hindi Movie Bhool Bhulaiyaa 1 so enticing and such a compulsively entertaining watch?
Here are 5 reasons why, we at Booxoul feel, you must watch Hindi Movie Bhool Bhulaiyaa 1 before you watch Bhool Bhulaiyaa 2
1. Hare Krishna Hare Ram
Ok, let's not kid ourselves. Nothing and absolutely nobody can deny the fact that this track was the epic cult number back then. The epitome of uber coolness. The start of the "drip" trend. It was upbeat, trendy, glitzy, reggae, snazzy, timeless and most important of all, it was Akkilicious you people!! Akshay, for me, has always been a personality who depicts the perfect balance of Chocolate Boy next door meets your macho man. Oh, yea fangirl moment, IKR but who can deny the peppy, uber chic, bohemian vibes Akki imparted through this track especially? Epic!!
2. Horror-Comedy, an unchartered territory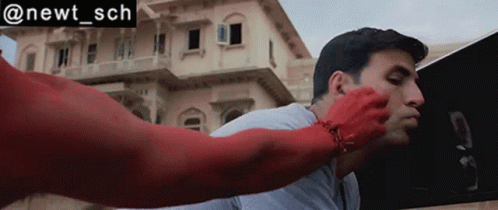 Back then in 2007, this was a cross-genre, that not many had dared to brave, especially in Bollywood where experimentation has always been something of a sensitive area especially when it comes to Movie concepts. In such a scenario, whilst the original was a remake of the Malayalam flick Manichitrathazhu  Priyadarshan the Ace director, ensured that the remake was made with the perfect balance giving equal weightage to comedy and horror, at the same time, refraining from any kind of spoofing or cringe horror. 
3. The Comedy Quotient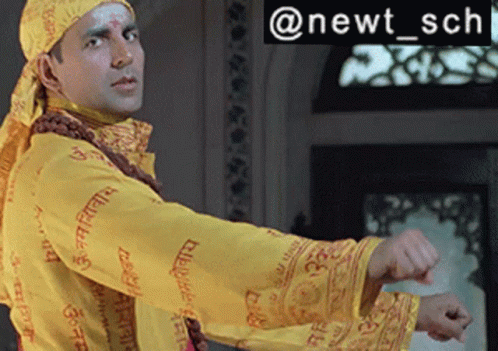 Be it Akshay's banter with the Chhote Pandit Ji, Janaki Bua or even the playful camaraderie he shares with Chandu's character, Aditya aka Akshay, his comedy timing as well as those of all the other characters help to provide the comic, much-needed relief and respite to the otherwise mounting suspense and "supposed" horror which Priyadarshan manages to induce throughout. I mean who can forget the cult "Beti Pushpa…" sequence where Rajpal Yadav's comic timing was so simple yet spot-on that it could probably crumble a stone too to peals of raucous laughter. The rendezvous between him and Akshay was like comical fireworks, lighting up the screen every time the 2 got together.  
4. The Climax

Ok, spoiler alert!! Whoever thought that the goosebumps you were getting throughout would soon be balanced out by ironing out the superstitions with logical science by the makers, also shedding light on mental health issues such as dissociative identity disorder? It was a true, eerily surreal yet hugely enlightening experience of sorts, seeing this strange yet dark side of the human persona. Horror plus comedy with a purpose. Now that is what I call a stellar combo!!
5. Vidya Balan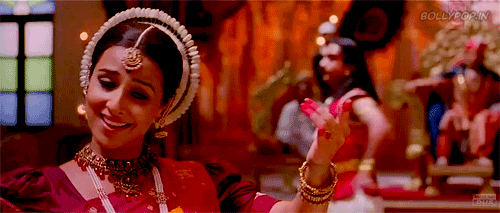 Last (hey but not the least but possibly the most important) reason is Vidya's superb performance which would possibly leave you in awe of her acting for ages to come. I mean Manjulika in the garb of Avni was a sheer horror created, in a manner never seen ever in Bollywood. And Vidya was not only her candid best, but she was also ethereally epic. How can one forget the sheer poise with which she dances in the climax, how she keeps surreptitiously spooking the family from the background sidelines? Not to mention the way she lifted that huge 4 poster bed in that infamous scene? God, I tell you I am even after years not prepared to handle that one ya! A performance which will stay with you, giving you goosebumps, melancholy and also a slice of life where reality sometimes is so strange that it snaps all reasoning away from the shrouds of logic and facts.
So, these were 5 reasons, we at Booxoul felt, why you must watch Bhool Bhulaiyaa 1 before you watch the Karthik Aaryan starrer next. Do keep tuned in as we are going to post the review of the latest one soon. Keep your eyes peeled for that one peep. Also, check out our blog for the latest in entertainment, food, lifestyle, travel, tech and gadgets, and all things bookish. Only here at Booxoul, India's best review and Lifestyle blog.
Till then, Amee Je Tomaaar……….
Shuddhu Je Tomaaarrrrrr……….
Ciao People!!