Best Hindi Web Series! Bhai sunte hi lagta hai chalo lets grab a pack of popcorn and binge-watch.
Anyways, summers are here and with that, all you need is some good 'me' time to binge watch some really good Hindi Web Series that are streaming right now on your favourite OTT platforms like Amazon Netflix and YouTube.
Earlier summers used to be synonymous with trips, (not to forget going to our native as well as Grandma's place), hobby classes as well as lots and lots of playing.
But, ab wo sab kahaan? With the world-changing, especially more so after the pandemic, it has become absolutely another story when it comes to entertaining oneself and taking a "break".
Fortunately, with the advent of the OTT platforms, it has become easier to keep not only yourself but even your family entertained.
Web series, which are the recent rage, comprise the majority of the binge-watch category. That is because
Web series, which are generally episodic are easier to watch and keep track of as compared to longer, cumbersome TV serials which are lengthier to retain.
Owing to their mass popularity, they appeal to all categories of audiences as compared to even mainstream cinema which has to be accessed conditionally.
There is no dearth of content to play and portray as far as a web series is concerned since they are short, more precise and bulleted kinds of stories that are crisply edited and presented for the viewers.
So, here we are with a list of 10 Best Hindi Web series you must watch on Amazon, Netflix and YouTube right now:
1. What The Folks
To begin with, dive into this sitcom that looks at a modern-day family's daily antics and shenanigans. With multiple seasons, this surely is a feel-good comedy that shall tickle your funny bone. Available on YouTube, this one is your go-to series for some of the best possible wholesome entertainment you can watch with family.
2. Mind The Malhotras
A couple seeking therapy to help solve the issues in their marriage is surely a not to be missed series as one can definitely relate to the kind of challenges that these guys might be facing. Available on Amazon Prime Video, this is one series you must surely consider putting on your to be watched list.
3. Yeh Meri Family
Exploring the life of a young boy named Harshu, his woes at school and home in a typical 90s vibe. Have to watch this one, you guys!! Available on Amazon Prime video, do catch up on this feel-good factor series that will make you take a trip down the memory lane and sing Nostalgia!
4. Inside Edge
A sports drama that will keep you hooked in both seasons 1, as well as 2, is based on the politics and corruption contained in the glitzy world of cricket. Available on Amazon Prime Video.
Pssst, this is one series I am currently binge-watching coz boy the excitement it is buzzing with every episode is so raw you could possibly taste it.
5. Malgudi Days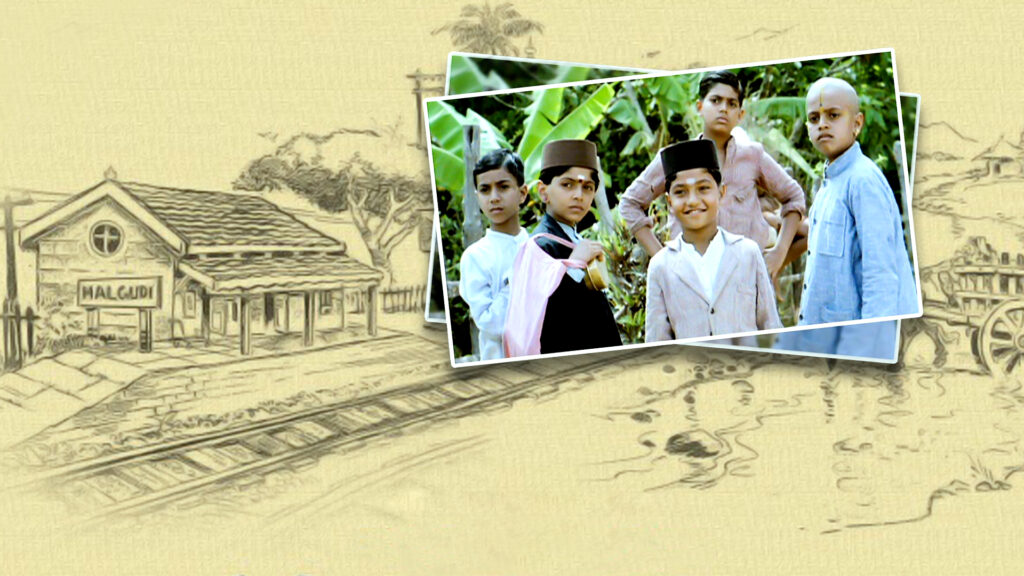 R.K Narayanan's classic which brought Swami to our lives brought innocence and old childhood days back to our lives. The story which plays in the imaginary town of Malgudi will also show you glimpses of pre-independence India. Available on Amazon Prime Video.
6. Afsos
The story of a man who hires an assassin to kill himself? Sounds psyched na? Well, this is the story of Nakul who has an assassin hired to get himself killed, though he changes his mind later on. What transpires next is riveting and full of interesting twists. Available on Amazon Prime Video
7. Decoupled
Another romance meets humour series, revolves around a couple trying to mend their broken bond. A drama exploring their strangely, amusing world, this one has stellar performances by Surveen Chawla and R Madhavan. Available on Netflix.
8. Jamtara – Sabka Number Ayega
A dark horse, this one more than makes up for its lack of big names with stellar acting by the cast, a superb storyline and execution. Exploring the myriad of phishing schemes, this one is surely an exciting one to watch out for. Available on Netflix.
9. Masaba Masaba
A light-hearted fictitious series that delves into the lives of real-life Mom-Daughter celebs Neena and Masaba Gupta, taking a look at their lives in the fashion and film industry. A refreshing watch, I'd say…
10. Shark Tank India
umm, I know you guys will be like paagal hai kya tu, Hindi web series mein non-fictional show, wo bhi motive based? But kya karein, this one has been an absolute rage since day zero. Young, fresh, vibrant, flamboyant entrepreneurs who wannabe hugely successful, scaling their businesses and ventures to newer heights are the main USP of this one. A Little secret, if you'd please, these 'Sharks' and their comments are entertaining as well as informative. A must watch for all.
Available on YouTube majorly as well as on the SonyLiv.
So, these were my choice of some of the picks of the best Hindi Web Series you can binge-watch with your family this holiday season.
Related:
Hope you liked our compilation of the Best Hindi Web series for you to watch this holiday season with your family. Keep tuning in regularly to catch on your daily dose of entertainment, lifestyle, travel, tech and gadgets as well as all things bookish. Only here at Booxoul, India's best book review and lifestyle blog.
Adios Amigos!
Tags: Best Hindi Web Series, Hindi Web Series, Web Series, Hindi Web Series on Amazon, Netflix, YouTube, Best Hindi Web Series on Netflix, Best Hindi Web Series on YouTube