Ever thought about how one really reaches the perfect balance-the equilibrium between desires and relationships? Through identifying the true inner calling of one's soul. The Art of Supreme by AB Kaura is a pursuit undertaken to explain the ways in which this equilibrium can be achieved.
Body is the epitome of imagination, creating limitless desires.
Indeed, our body which is a conglomerate of not only several elements that adorn nature is a creation which is equally strange as well as fascinating. Imagine how much we as a person, as a soul aka a vessel hold in terms of a being. Thoughtless awareness, which is one of the most desired states of mind is a target achievable and yet pretty daunting for the majority of us. Ever wondered why?
Well, simple. We as human beings are a shell of countless needs and wants. To be able to fulfil or regulate these in a particular, desired manner we seldom do adopt any approach which is a 360-degree holistic multi-faceted one, that keeps in sync and tandem with not only all those physical but also mental elements that make up part of our entire being. That acceptance, that ability to be able to reach that mindset where we are at the highest level of self-actualization is one of the most attainable goals we all harbour in our lives.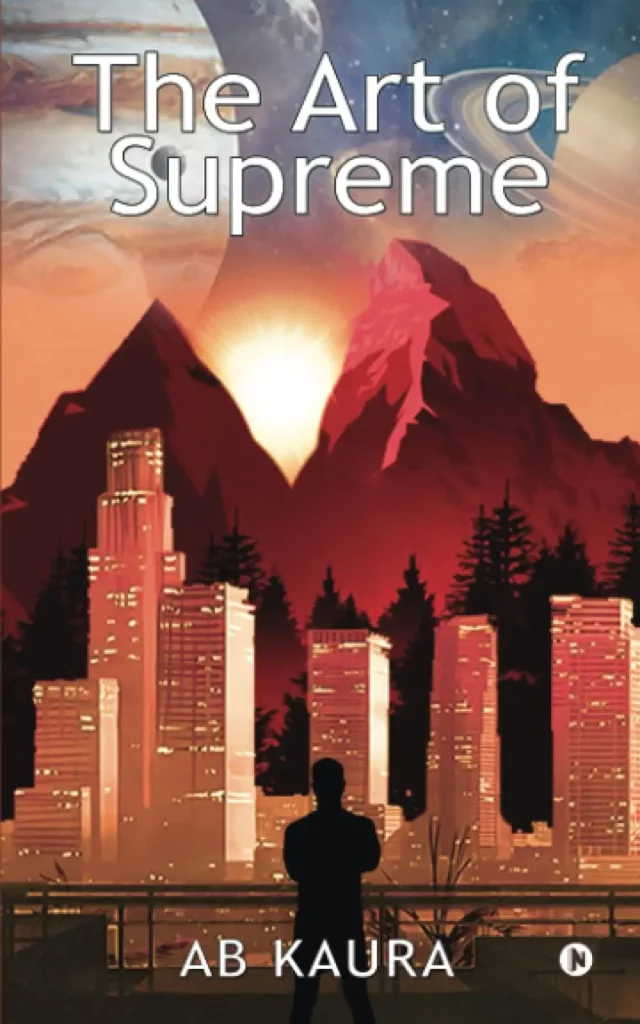 In case you guys are wondering why I have gotten around these life musings, well a book I recently finished by AB Kaura called The Art of Supreme deals with and dabbles through these qualms and theories in a refreshing, unique approach.
You know in life we are always relentlessly in pursuit of stability, a firm ground of sorts, of prosperity as well as peace and tranquillity. Through this book the author AB Kaura has given us a new vantage, helping us not only understand the synergies between our relationships and desires but also try and fathom the best possible permutations to develop a sense of a perfect equilibrium between the existence we have and the existence we ought to be striving for.
Any object or idea has a definitive and yet different perception for each one of us. Be it the most trivial of thoughts or emotions we always have a different perspective on each scenario and many a time we tend to question the efficacy of this. Through this brilliant writer, AB tries to not only explore and disentangle these intricate qualms, but he also addresses and unfolds many other aspects such as the tete-a-tete between human relationships and desires as well as concepts of space as well as time in association with our soul which we somehow consider to be an unassuming and yet, sometimes unknown force referred to as a part of the "Supreme Universe".
Indeed, the universe is supreme. It is made up of so many elements. And yet, at any given point in time getting to establish the correct balance between all these elements, delving and truly understanding the true voice of one's soul and inner calling for me at least has always felt like a herculean task. Yes, we claim to be all-knowing but when it comes to figuring it all out we are always at loggerheads, the equilibrium being in disarray between this soul, the body and the mind.
Through this narrative, AB has attempted to make us meet our own inherent higher understanding. Bringing together our past and future perspectives together, AB has attempted to help us reach our ultimate goal of actualization in a scenario where we seem to have been lost within our own superficial, indulgent purposes. With the help of an indulgent narrative, giving real-life instances, AB artfully narrates what transpires in the usual course of life, and how we perceive elements and forces of nature. Giving us the significance of ancient yoga techniques also known as sutras, Ab has explained their role and mysticism in our ever-changing lives. The illustrations given before the start of each chapter helped me gain an insight into what was going to be conveyed in that chapter and also helped me gain a web, a bibliography of sorts, helping me mark and put down my vital takeaways from this one.
I must commend the rationality, as well as the pragmatism of approach AB, has displayed while putting forth the knowledge, the pearls of wisdom he has shared through this write-up. The wisdom which has always existed, inherent in our minds, yet which remains untouched, lying dormant waiting to be dusted and brought forth, out from its case, released and scattered free to be adopted for a better level in the hierarchy of our self-actualization.
Related:
Keeping it free-flowing, in a narrative manner of sorts, it was AB's approach towards the purpose, the cause behind the book, the motto he addresses and the entire aura he has created, that kept me hooked throughout. It is not an easy task to be able to impart wisdom and also ensure that you do it in a manner that you are able to set up a link of indulgence as well as successfully impart what you want to convey to the group at large. AB has succeeded brilliantly in this task and I strongly feel anyone who decides to pick up this one and give it a read will surely be in a happier space than they were before reading this one. A brilliant read.
The Art of Supreme
Summary
If you wish to ignite the idea of living a universal reality in your mind, this read is for you. Based on a true story, this book explains the tools and methods in a story-telling form that could be easily applied in our daily busy lives. Discover the universal entity within you as you journey with young, aspiring Karn, the central character of the story. As the narrative unfolds, learn the art and science of your "soul element". The story is intended to both inspire and guide you towards honing your perceptions and killing your troublesome perspectives. Get ready to be coached with the marvellous techniques of "soul element" that can help you achieve the success that is incomparable and joyful
Do let me know in the comments which other books would you like me to read and review.
Stay tuned with us right here at Booxoul for the best in the field of entertainment, lifestyle, food, finance, fashion, tech and gadgets as well as all things bookish.
Adios Amigos!