With The Wedding Bells For Ranbir Kapoor And Alia Bhatt Tolling, Here Is A Throwback To 5 Of His Best Hindi Movies We Simply Love To Watch
So it's finally wedding bells for one of the most adored couples of B-town: Ranbir Kapoor and Alia Bhatt. Although, rumour mills seem to be abuzz, floating different rumours practically every few minutes right from the wedding had "Z" Security to the wedding being 'postponed'. But, you know what? We as fans of Ranbir Kapoor cannot keep calm and have to say that we are absolutely going all mushy seeing one of our most handsome Chocolate boys finally getting hitched. With the Ranbir Kapoor – Alia Bhatt wedding reportedly round the corner, here is a throwback to 5 of his best Hindi movies we simply love to watch over and over again.
Ranbir Kapoor, son of the late revered actor Rishi Kapoor and Neetu Kapoor is one powerhouse of talent who is not only known for delivering the best possible performances but also for being an icon of style and sass. As popular he is for his iconic performances, his personal life too has been of high interest, thanks to the quirky bits of his personal life that keep doing the rounds of the rumour mills.
However, putting all of that to rest, Ranbir is finally taken! Yes, it is Alia Bhatt you guys and yes! I heard that humongous crash, a million hearts break, thanks to the adulation this hunk enjoys.
So, I thought with the wedding bells tolling, let us pause and look back at 5 of his best Hindi movies we simply love to watch over and over again:
1.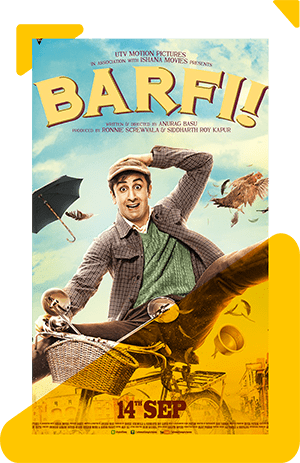 Barfi
Ok, this one is like one of his best performances to date. A 2012 Rom-Com directed by Anurag Basu, this one is a story of a hearing and speech impaired guy whose life journey and story have been showcased in a heartwarming manner, poring over intricate and delicate emotions of love, heartbreak, loss and such finer ones. One of the most stellar performances of Ranbir to date, this one is as melodic and charming as it is sad and melancholic. The best part about Ranbir's performance in this one is his ability to deliver each and every emotion so fluidly in spite of the physical challenges of his character being specially-abled. He has broken the shackles of the conventional hero through this one.
2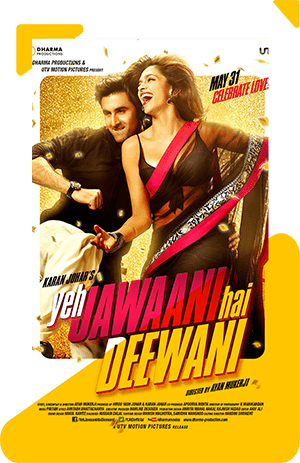 Yeh Jawaani Hai Deewani
A 2013 movie, this one is still a cult. I mean each and every time I watch this one I am transported with Bunny back to the hills of Shimla, backpacking away to my heart's content. Not to forget the way he decides to follow his heart and pursue a career in travel. Umm, then there is love too, blossoming, softly yet surely. And yes, there is Naina(Deepika at her beautiful best !!). The love story is as peppy as it is snazzy, as funny as it is heart touching. Exploring the traces of love and the treading back to your roots thing, this one is a delight throughout. "Kabira" is like a killer of sorts even today. (Psst, this one is like a homecoming of sorts kinda track I can hear over and over in a loop!)
3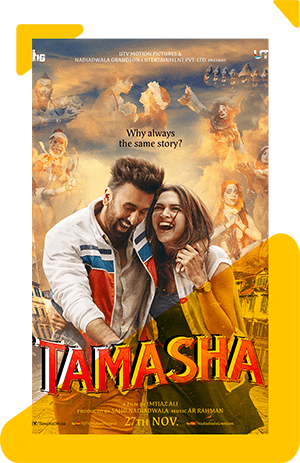 Tamasha
2015 by Imtiaz Ali, is a superb one showing the struggle of an individual trying to find his true self. In the story of Ved and Tara, one speaks of how we tend to lose ourselves along the way while trying to fit into the norms and conventions of the society we are a part of, forgetting and compromising on our true selves in the bargain. A coming of age, the revelation of sorts, this one is my personal favourite as Ranbir has emulated this one through each and every frame, each and every expression he portrays as Ved. Ved, for me at least, is not a character. It is a mirror, reflecting the qualms of any commonplace individual, the idiosyncrasies he is expected to follow, the vitalities that seem to get washed off in the process. Ved could be you or me, he could be anywhere(See, I told you this one has a "Hemp-like" effect, calming, yet intoxicating at the same time…
4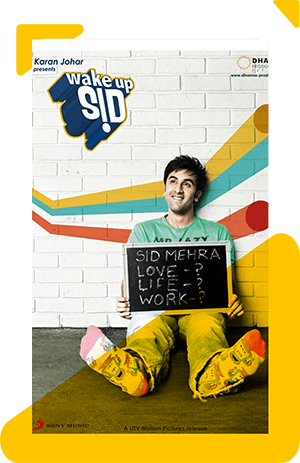 Wake Up Sid
The story of Sid Mehra, an unambitious spoilt brat who is compelled to re-assess and re-evaluate his choices when a more mature, goal-oriented woman enters his life. What transpires next is something I suggest you watch the movie to find out. Directed by Ayan Mukherji, this one will surely give everyone the true meaning, passion and importance of life. A coming of age drama you ought not to miss!
Anyways, I strongly feel teens and the youth will definitely resonate with this one owing to the deep-set ideologies about discovering yourself and being goal-oriented in life are concerned, being present in this one. Sid Mehra symbolizes every single youth who is otherwise cool but lacks the drive and the real kick in life.
5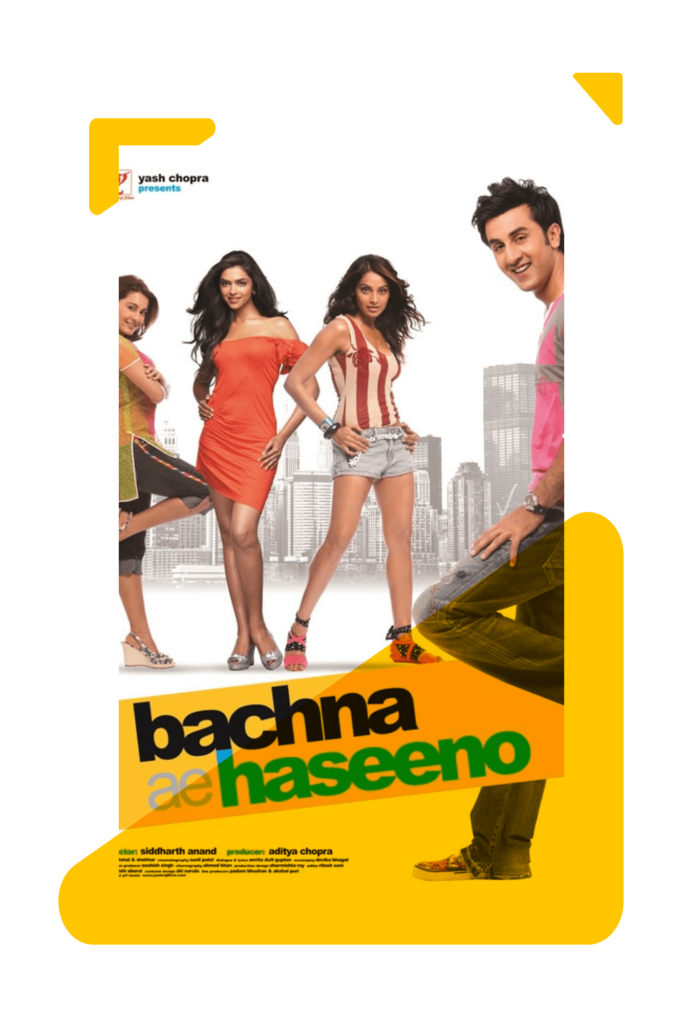 Bachna Ae Haseeno
A 2008 movie, this one was one hell of a Masala Bollywood flick. To be honest, it made way to my list beating many other, much more stellar performances of Ranbir for the simple reason that Ranbir and his presence is so enigmatic and flamboyant in this one, that one simply cannot take their eyes off him throughout. The story of a casanova, his pursuits and the turn back with penance, I mean do I even need to spell out more? Ranbir has added so much colour, spunk and life to this role that for once, I temporarily got confused, differentiating between him as Ranbir the actor, or Ranbir in the garb of Raj Sharma. The music is some of the best BTW in a very long time. Khuda Jaane, my ultimate haunting love anthem!! Sigh, Ranbir, Khuda Jaane, why are you getting hooked man!!
So, these were the top 5 Hindi Movies of Ranbir Kapoor we loved watching. I know you guys are going to be like but what about sooo many of his stellar performances like the ones in Saawariya, ROCK STAR, Roy, Jagga Jasoos, Sanju( IKR!), Ae Dil Hai Mushkil? But, you know what? With the wedding bells tolling for Ranbir and Alia I thought let us list some of those works of his which are fun, romantic, peppy and enamour Ranbir truly is an icon. And to tell you all the truth I always sincerely feel that Ranbir Kapoor is one of those whose personal life as much as it is debatable continues to be a youth icon, especially for the teen thanks to his power-packed and inspiring pieces of acting. Be it the know-it in Jagga Jasoos, or the careless Cassanova in Bachna Ae Haseeno, the intense lover in Rock star or the pinner in Ae Dil hai Mushkil, we love and relate to and are smitten by his work. A true cult in terms of deliverance and a classic example of dedication to his work, especially for the youth of today.
Related:
So, hope you liked this compilation. Also, let us know in the comments what other blogs you would like us to get for you and we at Booxoul, one of India's best book review and lifestyle blogs would be glad to get them for you. Stay tuned to catch the latest in the world of entertainment, lifestyle, travel, leisure, food, tech and gadgets and all things bookish.
I'm participating in the #BlogchatterA2Z Challenge.
Toodle-e-ooo!!