Stranger Things, is a mix of investigative drama and supernatural elements portrayed with horror, sci-fi and much more in a backdrop of the 80s. Sounds promising right? Read on to discover your next Netflix binge-watch.
So, have you watched the latest season of Stranger Things? Well, if not you are probably obsolete, living under a rock or simply "do not exist". Indeed, over 3 years ago when we first made acquaintance with Hawkins, Indiana and its terrified inhabitants little did we realize that they would become a permanent part of our lives.
A show which continues to garner maximum excitement and interest of millions worldwide has been doing so for the right reasons. Taking us to the good old era of the 80s and the 90s, here is a series that takes classic concepts and remodeling them into something much more exciting.
Created by the Duffer Brothers, this is a show which has something for everybody. Be it a mystery, drama, romance, action, tragedy, sci-fi or even monstrous creatures, Stranger things incorporates it all. Appealing thus to a wider audience base, here is a show that has a massive universal appeal.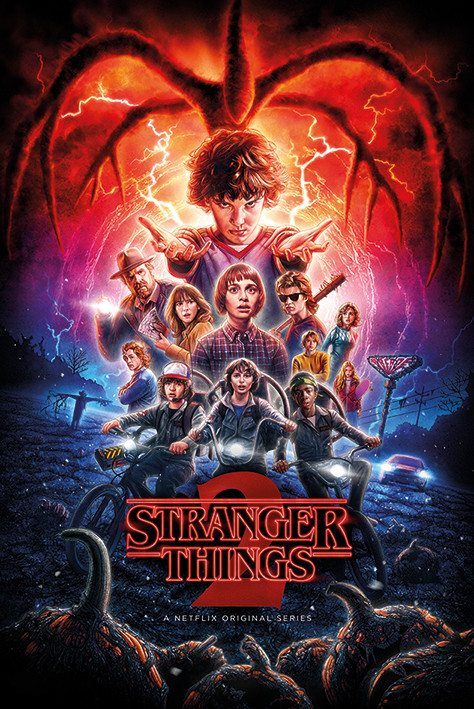 First released as a Netflix original in 2016, the story takes place in the fictitious town of Hawkins, Indiana. Whilst season 1 is around the disappearance of Will Byres, the next in the series explores and investigates the consequences of season 1's incidents and scenarios.
The third season focuses on the strange powers of darkness which are beyond Hawkins and which will be explored in the 4th season.
 So, what is it that you are waiting for? Why living without Stranger Things still? If you are a true-blue Steven Spielberg and Stephen King fan, here is a series that emulates humour, friendship, drama, sci-fi, romance and much more wrapped up all at once. Seldom comes work which is as exciting as this one. Nostalgia is hard-wired seamlessly into its conceptualizations, here is a series which has to surely be there on your watch list if it still hasn't made an appearance there yet.
Still unconvinced? Booxoul here is giving you 7 reasons to watch stranger things Today:
1. Apt "Horror Quotient"
Well, the biggest misconception about Stranger things is that it is a horror flick which definitely isn't complete, so to say. Agreed, there are some strange, suspense moments, it is not something a 13-year-old also can't digest under Parental Guidance. With humour and romance balancing out the spook factor, even Demogorgon, the show's main monster is not as scary as is touted to be.
2. Amazing Soundtrack
Ok, this is hands down true. Filled with foot-tapping 80s tracks, the authenticity of the show is only accentuated by these amazing songs. "Should I stay or go" which is a literal main lifeline sort of a track in Season 1, with several more filling in the fine lines and adding up to the oomph factor of the series. As the series is set in a time setting, it is only evident that the tracks act as a sort of a facilitator, taking its standard up several notches.
3. The "Science "Quotient"
With the interest of the main characters like Mike, Will, Lucas and others in science and technology, viewers are rewarded with amazing facts and tidbits. The geeky side of one's persona is always a subject matter of high charge and interest and the makers have ensured that the quotient is not only created substantially but also maintained well. Welcome to the nerdy land folks!
4. Friendship Goals
Ok, seriously, I, mean these guys are friendship goals personified. Their respect and mutual regard for each other are what make the series so cool. Remember the point when Byers went missing? When Mike, Dustin and Lucas set out to find him and come across Eleven on the way they befriend her. "Friends don't lie", right guys!!
5. Stellar Star Cast
Know the USP of this huge series? Well, a cast comprising mostly of children, going on record to show acting needs no validation as far as age is concerned. Millie Bobby Brown, Finn Wolfhard, Caleb Mclaughlin, Noah Schnapp and others, here are stark stellar performers. 
Psst., these guys received a Screen Guild Actors award for outstanding ensemble performance in a Television series.
6. Fashion Fads and Fallacies
Ok, accept it, the stone-washed jeans, the colourful warmers, checkered bottoms, in short, all those clothes, I genuinely desire to wear, all in one frame, are like a real treat for me. Sometimes, just watching those clothes gives you that retro cosy vibe, the looks created in this one will make you go like "Aww, My Gawdddd."
7. Multiple Cool Genres Rolled In One
Ok, straight up to this, if you like sci-fi with a bit of thriller as well as good humour attached to it, along with a dash of the 80s pop culture, this is the perfect watch for you. And not to forget, when you get multiple options layered one on top of the other in a single watch, who would want to miss it?  
So Why should you watch Stranger Things
The perfectly apt spooky watch.
Superb soundtrack.
Amazing science and technological facts and tidbits.
Amazing Friendship goals.
Stellar star cast and acting.
80s fashion fads and fallacies.
Multi-genres in one.
So, hope you guys resonated with these 7 reasons why you must watch Stranger Things, a web series which is the best of the best we have on the OTT in recent times. Watch it if you haven't already seen it. Let us know in the comments below what you think of this article. Let us also know which other web series you would like us to review. Stay tuned for the best in the field of entertainment, travel, food, fashion, lifestyle, tech and gadgets and all things bookish.
ALSO:
Adios Amigos!!